When dealing with more demanding runs, you can be confident in our strong and reliable industrial thermal printers.
---
In addition to the thermal transfer ribbons and thermal printheads, TTR Euroworks offers a wide range of thermal label printers.

A thermal label printer can be used for many applications and can be used in many markets.

Below you will find a few of our thermal label printers.
Leading brands like: Toshiba TEC® printers, Zebra® printers, Sato® printers and TSC® thermal printers.
Print on blank labels on rolls and thermal ribbons.
Suitable large on-demand, variable data environments.
Produces high quality barcodes at an industrial level pace.
Full range of blank lables on rolls, thermal ribbons, and thermal printheads.
TTR Euroworks industrial thermal products are designed for durable, reliable printing. Explore our range below to boost productivity in the most demanding conditions with the most rugged line of industrial thermal printers.
Contact us if you require additional information.
A selection from the available printers:
SATO M84 PRO SERIES
The M84 Pro Series is a rugged industrial generation of high performance printers with high-resolution capabilities suitable for heavy-duty work. Used across a range of asset tracking, component labelling and ticketing applications for shipping and receiving environments, as well as asset tracking scenarios.
Features:
• Easy Set-up and Maintenance
• High Speed Processing and Throughput
• Space Saving Design
• Superior Print Accuracy and Quality
• Durable Design
Zebra ZT500 Series High-performance label printers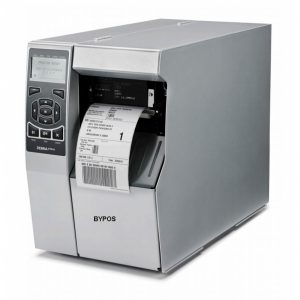 The ZT500 series is the perfect choice for combining top performance with low costs in production, shipping or storage. This industrial printer is ideal for medium to large print volumes. This printer series prints labels up to 305 mm per second. The ZT510 is available with a resolution of 203 dpi or 300 dpi. You can choose between direct thermal or thermal transfer transfer.
Specifications ZT500

Features:
• Industrial label printer for top performance
• Maximum print width 104 mm
• Choice of 203 or 300 dpi printer
• Print labels up to 305 mm per second
• Easy management from your network
• Flexible configuration with multiple options
TSC TTP-366M Thermal Transfer Label Printer (300dpi, 6 inch)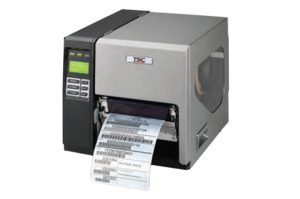 This die-cast aluminum label printer is designed for your most demanding barcode and identification needs, without breaking your budget. The TTP-366M boasts a print speed up to 6 ips with a 300 dpi resolution. The TTP-366 is ideal for your mission critical printing applications, either on-demand or in batches.
Features:
• Thermal transfer print technology
• High quality die cast aluminum design
• SD Flash card memory expands to 4GB storage
• Keyboard interface at print-side
• 32 MB DRAM, 8 MB FLASH
TOSHIBA B-EX4T1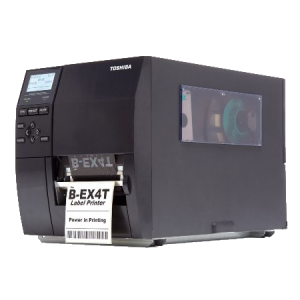 With over 20 years of experience, TOSHIBA is known as a supplier of reliable and technically advanced equipment. The extensive range of printers meets the highest requirements for quality and durability.
Features:
– Resolution: 203 dpi / 305 dpi
– Maximum print width: 104 mm
– Maximum print length: 1498 mm
– Maximum print speed: 355 mm / sec
– Maximum paper width: 120 mm
– Technology: thermal transfer / thermal direct
– Diameter core: 40 – 76 mm
– Maximum roll diameter: 180 – 200 mm
– Ribbon length / roll: 600 meters
Honeywel PM43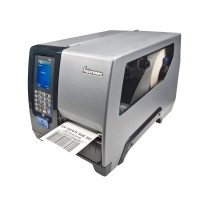 The Honeywell / Intermec PM43 is the next generation to the successful PM4i. This printer is located in the middle segment of Intermec's printer range and has been developed for various applications in distribution centers, warehousing and production environments.
Contact one of our experts