New all-in-one kiosk printer
The PC43K is an easy-to-use and fully integrated kiosk solution combining a tablet, label printer, scanner and configurable workflow software, all from one vendor. Its compact modular design is perfect for retailers, parcel shops, airlines, hospitality and other applications where customer self-service is desired. The benefits are obvious; no direct interaction between customers and staff, improved customer experience, process automation and cost savings.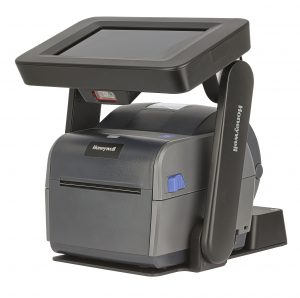 Integration and configuration is simple, thanks to the configuration software and intuitive Android operating system. The PC43k comes with a wall/desk mount to ensure that it is ready for direct consumer operations. The tablet hinge has a range of up/down movement of 135°, while the articulating arms move 60°, allowing customers to conveniently adjust the kiosk to meet their positional needs. It provides the best solution in its class for space-constrained environments.
Integrated direct thermal printer
The integrated direct thermal printer creates 1D and 2D barcodes at a maximum print speed of 152.4 mm/sec. in a resolution of 300 dpi. It additionally supports one-bit BMP, GIF, PCX and PNG graphics formats. With native support for comprehensive printer command languages, the integrated PC43 direct thermal printer is simple to use and maintain. It comes with all necessary configuration applications such as a printer firmware updates app, which enables you to update the printer to the latest firmware to ensure that it is secure and performing to its optimal level.
For further details and how to order, please contact us