The world's first desktop label printer designed specifically for linerless printing
In August 2020, Bixolon launched their XL5-40 linerless label printer. This is the only desktop printer that was designed from the ground up to be linerless. The XL5-40 has a number of important advantages over non-specialist desktop label printers that support linerless labelling functions as an option. For example, jamming and curling can be an issue with printers that are not specifically designed for linerless printing.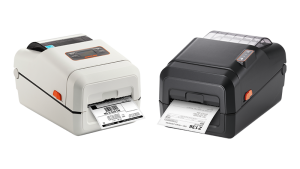 The XL5-40 is uniquely designed for anti-jamming and anti-curling, featuring long-lasting two-platen rollers and special paper path
The only XL5-40 supporting top-down guillotine system that cuts the coated face of the paper
Peel-off sensor, Taken Sensor™ will not continue to print until the current label is removed
Printing speed up to 6 ips (152 mm/sec)
For more information about linerless labelling solutions or BIXOLON's XL5-40, ask your TTR account representative.