Industry shortages trigger creative solutions
When you're faced with global supply chain challenges for a longer period of time, it's time to look for creative solutions. If you're looking for an immediate solution to keep your printing operations going, why not rent or buy a slightly used printer?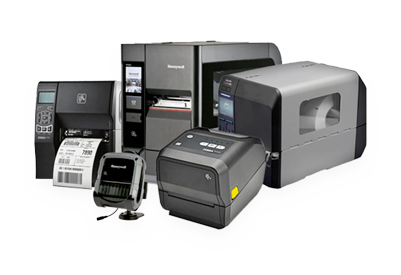 As good as new – ready to ship today!
We have a large stock of new and slightly-used desktop and industrial printers available in our warehouses in the UK and The Netherlands. Some of these devices have been used for demo, but they are all as good as new. Let us know what you're looking for. We'll do everything we can to help you out.
Note: Product images may differ from the actual product on sale.
| Image | Brand | Model | Part number |
| --- | --- | --- | --- |
| | Zebra | ZT230 | ZT23042-T0E000FZ |
| | Zebra | ZT420 | ZT42063-T4E0000Z |
| | Zebra | ZT420 | ZT42062-T0E0000Z |
| | Zebra | ZT510 | ZT51042-T0E0000Z |
| | Honeywell | PM43A | PM43A11EU0041202 |
| | Honeywell | PD43 | PD43A03100010202 |
| | Zebra | GK420T | GK42-102520-00 |
| | Zebra | GX420d | GX42-202422-00 |
| | Zebra | GX420d | GX42-202420-000 |
| | Zebra | ZD420 | ZD42042-T0E000EZ |
| | Honeywell | PC42T | PC42TWE01313 |
| | Honeywell | PC42D | PC42DLE033013 |
| | Honeywell | PC43T | PC43TA00000202 |
| | Honeywell | PC23D | PC23DA0100022 |
| | Zebra | 110Xi4 | 112-80E-00103 |
| | Zebra | 110Xi4 | 112-80E-00203 |
| | Zebra | 110Xi4 | 112-80E-00103 |
| | Zebra | RW420 | R4D-0UJA000E-00 |
| | Zebra | RW420 | R4D-0UKA000N-00 |
| | Honeywell | RP4 | RP4A0000C00 |
| | Honeywell | RP4 | RP4A0R00C10 |
| | Honeywell | RP4 vehicle | 229044-000 |
| | Honeywell | MP Nova 4B | X45-00-03000000 |
| | Honeywell | MP Nova 4B | X72-00-03000000 |
| | Honeywell | MP Nova 4B | X82-00-03000000 |
| | Honeywell | PR3 | PR3A300610011 |
| | Honeywell | RL3e | RL3-DP-50100310 |
| | Honeywell | LP3 | 200271-200 |
| | Honeywell | LP3 | 200270-100 |
| | Honeywell | PB22 | PB22A1080E000 |
| | Honeywell | PB32 | PB32A1080E000 |
| | Zebra | Z4M | Z4M00-1004-0000 |
| | Zebra | ZM400 | ZM400-200E-0000T |
| | Zebra | TLP2824 (no PSU) | 2824-11200-0001 |
| | Honeywell | E-Class MK IIIP | EP3-00-1E001P00 |
| | Honeywell | PD41 | PD41 BJ000002021 |