Care Labels and more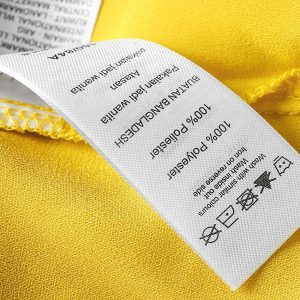 Are you looking for Nylon labels for workwear or Satin labels for designer brands? We can help you with high-quality supplies for a wide variety of textile label applications.
Consumer interest in sustainable products is increasing, and brands in the clothing industry are placing increasing demands on the purchase of certified textile products. Avoiding harmful chemicals is a critical part of delivering the best products. That's why we offer care label materials that meet the industry standards, like Standard 100 by OEKO-TEX®.
Receive a free sample box
Contact us
Nylon taffeta
A strong and flexible maintenance label that can be printed on both sides. Washing instructions and other information are easily and sharply printed on the label at 300 dpi.
Polyester satin taffeta
The most flexible and soft care label in our range, designed for more luxurious fabrics. We have polyester for household and aggressive washes. Thanks to the so-called (hot) slit edge, the tendency to fray associated with this type of care label is eliminated. This polyester satin version can be printed on one side.
Extra strong taffeta
This heavier type of textile label is especially suitable for workwear and other textiles where industrial washing is required. Think overalls, curtains and even horse blankets! This type of textile label also offers a solution for dry cleaners. After frequent washing, extra strong taffeta labels maintain their high-quality print. Extra strong taffeta can be printed on one side with the combination of a resin ink ribbon. Available in over 28 colored thermal transfer ribbons.
Maintenance labels
Maintenance labels are available in the color white in 30, 40 and 50 millimeter width on a roll of 100 meters (with a core of 76 mm). Other widths and / or colors depend on the volume and are available on request.