Thermal printheads for every labelprinter brand.
From Avery to Zebra.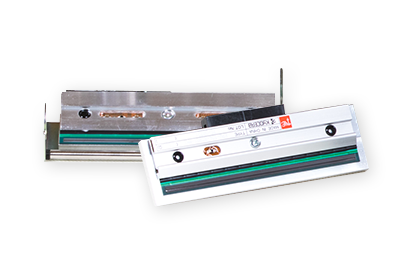 You've come to the right place for your printheads. If we don't have it, nobody does. That's how we see it. With an average of 6,000 printheads on stock, our goal is to ship the same day as much as possible.
Go to our new webshop to check pricing and availability in seconds. Simply filter by brand and dpi resolution. If the printhead is not listed in the shop yet, let us know and we'll send you the information.
View Printheads in our Webshop
Same performance. Same dimensions. Different price.
Besides all of the original manufacturers' print heads, we also offer a choice of the more cost-effective alternatives for many of them. They are high-quality OEM replacements made in collaboration with qualified manufacturers. They come with the TTR Euroworks drop-in replacement guarantee and are exact replacements of the original brands.

Here's a selection of brands and models that we have on stock
Check availability and pricing on thermalprinting.shop/printheads
| Brand | Product Number | Resolution | Printer Model |
| --- | --- | --- | --- |
| Sato | R08082010 | 300 | S8412 |
| Sato | R13865000 | 300 | CG212 TT |
| Sato | R32975300 | 300 | S86-ex |
| Sato | R29226000 | 600 | S84-ex |
| Sato | R38747500 | 200 | CL6NX Plus |
| Sato | G00673900 | 200 | CT4-LX |
| Sato | R32975200 | 200 | S86-ex |
| Sato | R38747600 | 300 | CL6NX Plus |
| Sato | G00674000 | 300 | CT4-LX |
| Sato | R37901800 | 200 | CL4NX Plus |
| TSC | 98-0330019-10LF | 200 | TC200, TC300, TC210, TC310 |
| Argox | 23-82424-015 | 200 | OS series |
| Delford | 1520820 | 200 | 7000, 8000 |
| Valentin | 37.04.100 | 300 | Spectra 108 |
| Argox | 23-83424-004 | 300 | X-3200 |
| TSC | 98-0580061-00LF | 200 | DA200 |
| A-Pos | TTR-EXC-MC2 | 300 | Mercury 230 |
| Valentin | 37.04.053 | 300 | DPM III i, DPM III c |
| Valentin | 37.04.1621 | | Spectra II 162/12 |
| Markem | B03800AA | 200 | Cimjet 200, Cimjet 385 |
| Valentin | 37.04.101 | 300 | DPM II, IIIc, IIIi, SPE107, Spectra 107 |
| Printronix | 258709-001 | | T8208 |
| Valentin | 37.04.160 | 300 | Optimo 160, SPE 160 |
| Valentin | 37.04.2348 | 600 | Spectra II 106/24 |
| Honeywell | 50151888-001 | 600 | PX940 |
| Sato | R06530000 | 200 | MB200i |
| Videojet | VJDF053 | 300 | Dataflex 6320, Dataflex 6420, 53mm |
| Sato | YVCX20038 | | CX108 |
| Valentin | 37.04.2316 | 300 | Universal 106 |
| Toshiba | 7FM01641000 | 200 | B-SX4T |
| Toshiba | 7FM01584000 | 300 | B-SX8 |
| Zebra | P1112640-019 | 200 | ZD421 |
| CAB | 5.977.384.001 | 300 | Squix 2 |
| Zebra | G105910-148 | 200 | TLP2824 |
| Valentin | 37.04.2337 | | Compa II 108-12 |
| Honeywell | PHD20-2267-01 | 200 | E-Class MarkII, E-Class MarkIII, RL4, RL4e |
| Zebra | 79800M | 200 | ZM400 |
| Toshiba | 7FM06646000 | 200 | B-FV4D |
| CAB | 5.977.383.001 | 300 | Squix 4.3 |
| Zebra | P1004232 | 300 | 110XI4 |
| Zebra | G105910-102 | 200 | LP2824 |
| CAB | 5.977.380.001 | 600 | Mach 4 |
| Videojet | 406315 | 300 | 406315 LPA 9550 |
| Printronix | 251012-001 | 300 | T5304R, |
| Zebra | P1112640-020 | 300 | ZD421 |
| Zebra | P1112640-219 | 300 | ZD421 |
| Valentin | 37.04.1025A | 200 | Compa 104 |
| Intermec | 1-010044-900 | 300 | PF4i, PM4iA, PF4Ci, PM4 |
| Sato | R05606000 | 200 | MB201i |
| Zebra | P1004237 | 300 | 170XI4, ZE500 |
| Zebra | P1079036-005 | 200 | Ze500-4 |
| Intermec | 710-129S-001 | 200 | PM42, PM43, PM43c |
| Printronix | P220065-902 | 300 | T6000 |
| Zebra | 105934-038 | 200 | GX420t, GK420t |
| Zebra | 105934-037 | 200 | GK420d, GX420d |
| Zebra | P1080383-415 | 200 | ZD420D, ZD620D |
| Zebra | P1080383-226 | 200 | ZD420T, ZD620T |
| Datamax | PHD20-2246-01 | 300 | H-6308/6310 |
| Avery | 98969 | 300 | TTX450, ALX720 |
| Avery | A0978 | 300 | 64-04 |
| Intermec | 710-180S-001 | 400 | PM42, PM43, PM43c |
| Zebra | P1079036-006 | 300 | ZE500-4 |
| Avery | N100040 | 600 | XLP504 |
| Avery | A3974 | 200 | AP 2.4 |
| Zebra | 79804M | 300 | ZM600 |
| Avery | A4031 | 200 | AP 4.4, AP 5.4, XLP504 |
| Intermec | 850-812-900 | 400 | PX4i |
| Intermec | 710-228S-001 | 200 | PM23 |
| CAB | 5956382.001 | 300 | PX4 |
| Zebra | G46500M | 300 | 170PAX2/3, 170XiII/III, 170XiIII Plus/PAX4 |
| Zebra | G22000M | 200 | 220 XiII, 220 XiIII |
| Honeywell | 50151887-001 | 300 | PX940 |
| Zebra | 79802M | 600 | ZM400 |
| Intermec | 225-783-001 | 200 | PC43 |
| Datamax | PHD20-2220-01 | 200 | M-4206, M-4208 |
| Intermec | 201-031-230 | 300 | PC23d |
| Videojet | 407933 | 300 | Dataflex 6530, Dataflex 6330, 53mm |
| Intermec | 710-179S-001 | 300 | PM42, PM43, PM43c |
| Datamax | PHD20-2181-01 | 200 | A-4212, I-4206, I-4208, I-4212 |
| Zebra | P1058930-011 | 600 | ZT410, ZT411 |
| Datamax | PHD20-2268-01 | 300 | E-4305 |
| Zebra | P1083347-005 | 200 | ZT510 |
| Zebra | P1037750-006 | 300 | ZXP Series 7 |
| Zebra | P1046696-016 | 300 | ZE500 4 RH&LH |
| Zebra | P1058930-012 | 200 | ZT420, ZT421 |
| Zebra | P1083320-012 | 600 | ZT610 |
| Zebra | P1004238 | 200 | 220 XI4 |
| Zebra | P1083320-011 | 300 | ZT610 |
| TSC | 64-0010010-01LF | 300 | TTP-243/342 |
| Datamax | PHD20-2225-01 | 300 | M-4306, |
| Toshiba | 0TSBC0117001F | 200 | B-EX4T1 |
| Zebra | P1058930-013 | 300 | ZT420, ZT421 |
| Zebra | G47426M | 300 | 220XiIII Plus |
| Zebra | P1004239 | 300 | 220 XI4 |
| Rohm | KF2003-GM11B | | |
| Printronix | 251243-001 | 200 | T5204E |
| Printronix | 252379-001 | 200 | T4M |
| Printronix | 251236-001 | 300 | T5306E/T5306R |
| Intermec | 1-010043-900 | 200 | PM4i/PF4i |
| Avery | 99656 | 300 | Tiger XXL, TTX1050 |
| Honeywell | 50151886-001 | 200 | PX940 |
| Markem | B04420AA | 200 | Cimjet 300, Cimpack 300 |
| Citizen | JA99502-0 | 300 | CLP-4121 |
| Zebra | P1004233 | 600 | 110XI4 |
| Citizen | PPM80012-00 | 200 | CL-S300, CL-S321 |
| Intermec | 1-040083-900 | 300 | PX4i |
| Intermec | 225-784-001 | 300 | PC43 |
| Intermec | 201-031-220 | 200 | PC23d |
| TSC | 64-0180005-00LF | | TTP-342 Pro |
| Valentin | 37.04.2326 | 300 | PICA/VITA II 106/12 |
| TSC | 98-0330043-01LF | | TTP245C |
| Citizen | JM14706-0 | 300 | CLP631, CLS 631 |
| Citizen | JN09804-0 | 300 | CLS-703 |
| Datamax | PHD20-2208-01 | 400 | I-4406, A-4408 |
| Toshiba | 0TSBC0145001F | 200 | B-EX4T2 |
| Datamax | PHD20-2242-01 | 400 | H-4408 |
| Datamax | PHD20-2243-01 | 600 | H-4606 |
| Citizen | 100117-00 | 200 | CT-S310 |
| Domino | EPP001359 | 300 | V120i 32mm |
| Citizen | TZ09803-00F | 200 | CT-S801 |
| Rohm | KF2003-GK42E | 200 | |
| Toshiba | 0TSBC0145201F | 600 | B-EX4T2 |
| Argox | 23-80013-001 | 200 | A150, A200, R400 |
| Domino | MT25224 | 300 | T70 |
| Markem | 338931 | 300 | 4 inch High U+ |
| Mettler | KM2003-A210C | | 8450, 8461, 8462 |
| Rohm | KD2004-DC92 | | |
| Rohm | KF2003-GD40E | | |
| Rohm | KF3004-GM50B | | |
| Rohm | NM2004-UA10A | | |
| Valentin | 37.04.105 | | Genio 104 N |
| Argox | 23-80013-002 | 200 | A150, A200, R400+ |
| Argox | 59-IX402-001 | 200 | iX4 |
| Argox | 23-80017-001 | 200 | OS 203DT |
| Argox | 59-F10A1-001 | 200 | X-1000V, X-1000VL, X-2000V, X-2000VL, X-2300 |
| Avery | A0979 | 300 | 5 inch 64-05, TTX675, DPM, PEM, ALX925 |
| Avery | A2817 | 300 | 64-04 |
| Avery | A6549 | 300 | 7.t |
| Avery | A0981 | 300 | 8 inch 64-08 |
| Avery | 127033 | 300 | ADTP1 |
| Avery | 128933ST | 200 | ADTP1 |
| Avery | A4431 | 300 | AP 4.4, AP 5.4, XLP504 |
| Avery | A9967 | 200 | AP 5.6 |
| Avery | A100169 | 300 | AP5.6 XLP506 |
| Avery | A6550 | 200 | AP7.t |
| Avery | 98-0260044-01LF | 200 | MO9416XL TD |
| Avery | 98-0250133-00LF | 200 | MO9416XL TT |
| Avery | 98-0270033-00LF | 300 | MO9416XL TT |
| Avery | 5595090 | 300 | Snap 600 |
| Avery | 98915 | 300 | TDI, TTX650 |
| Avery | A0417 | 200 | TTX 350, TTK, Ocelot, Texxtile |
| Avery | A0418 | 300 | TTX 350, TTK, Ocelot, Texxtile |
| Avery | 98038 | 300 | TTX 550 |
| Avery | 98968 | 300 | TTX950 |
| Bixolon | AK04-00009S | 200 | SLP-TX400 |
| Bixolon | AK04-00009T | 300 | SLP-TX400 |
| Bizerba | 71021570000 | 200 | Bizerba Applikator |
| Bizerba | 71054440000 | 200 | BWLC, SCL, SC500 |
| Bizerba | 65620170600 | 200 | GLMI 3 inch |
| Bizerba | 65620170800 | 200 | GLMI 4 inch |
| Bizerba | 71021940000 | 200 | GLMI 6 inch |
| Bizerba | 65620170900 | 200 | GLP 160 |
| Bizerba | 65620171000 | 200 | GLP 160 |
| Bizerba | 71021550000 | 200 | GLP 80 |
| Bizerba | 65620170501 | 200 | GS, GH, GV, GX, GLP |
| Bizerba | 94006039981 | 200 | LP 204 |
| CAB | 5958686 | 600 | A2+ |
| CAB | 5954105 | 300 | A2+ |
| CAB | 5942371 | 300 | A3 M4 Type 4300 |
| CAB | 5942370 | 200 | A3 M4 Type 4303 |
| CAB | 5948641 | 200 | A3-2, Type 2203 |
| CAB | 5948640 | 300 | A3-2, Type 2300 |
| CAB | 5954030 | 300 | A4+ |
| CAB | 5954081 | 200 | A4+, Type 4210S |
| CAB | 5954077 | 600 | A4+, Type 4610S |
| CAB | 5946015 | 300 | A4, Type 4300S |
| CAB | 5954085 | 200 | A4.3+ Type 4213 |
| CAB | 5954089 | 300 | A4.3+, Typ 4310 |
| CAB | 5954217 | 200 | A6+ |
| CAB | 5954106 | 300 | A6+, XC6 |
| CAB | 5943245 | 300 | A6, Type 6300 |
| CAB | 5560275 | 200 | A8 |
| CAB | 5954107 | 300 | A8+ |
| CAB | 5945805 | 300 | A8, Type 8300 |
| CAB | 5560515 | 300 | Calypso 300 |
| CAB | 5966096 | 200 | EOS |
| CAB | 5965580 | 300 | EOS1/4 |
| CAB | 5906761001 | 600 | Hermes A2L |
| CAB | 5905825 | 600 | Hermes A5 |
| CAB | 5905826 | 300 | Hermes A5 |
| CAB | 5954072 | 300 | HERMES+ A4+ Type 4310S, XC4T, XD4T |
| CAB | 5540883 | 300 | Mach 4 |
| CAB | 5540882 | 200 | Mach 4 |
| CAB | 5540884 | 600 | Mach 4 |
| CAB | 5541077 | 600 | Mach 4 |
| CAB | 5541073 | 300 | Mach 4 New Type |
| CAB | 5541074 | 200 | Mach 4 New Type |
| CAB | 5956383.001 | 600 | PX4 |
| CAB | 5956384.001 | 300 | PX4.3 |
| CAB | 5956385.001 | 200 | PX4.3 |
| CAB | 5956381.001 | 200 | PX4L |
| CAB | 5.956.322.001 | 300 | PX6L |
| CAB | 5977380.001 | 600 | Squix 4 |
| CAB | 5977444.001 | 300 | Squix 4 |
| CAB | 5977382.001 | 200 | Squix 4.3 |
| CAB | 5977386.001 | 200 | Squix 6.3 |
| CAB | 5977387.001 | 300 | Squix 6.3 |
| Citizen | JM14705-0 | 200 | CLP621, CLS521, CLS621 |
| Citizen | PPM80005-00 | 200 | CLS 6621 |
| Citizen | JN09802-0 | 200 | CLS-700 |
| Citizen | TZ09806-00F | 200 | CT-S401, CT-S310II |
| Citizen | TZ09804-00F | 200 | CT-S851, CT-S651 |
| Delford | 1546737 | 300 | 8060, 9060, 8070 |
| Delford | 1594695 | 300 | 8060, 9060, 8070 |
| Delford | 1592267 | 300 | 8100, 8120, 8160, 9100, 9120, 9160 |
| Delford | 1591834 | 300 | 8100, 8120, 8160, 9100, 9120, 9160 |
| Delford | 1546738 | 300 | SE Rotary thin film |
| Digi | 545-380 | 200 | 3600 |
| Digi | 12LLTHDKRC8112 | 300 | DI-5000, DP-5000 |
| Digi | 12LLTHD0KYT561 | 200 | SM-5100 |
| Eidos | 300885X | 300 | Eidos 160mm with PH code |
| Datamax | PHD20-2241-01 | 300 | A-4310 MarkII, H-4310X |
| Datamax | PHD20-2263-01 | 300 | M-4308 |
| Datamax | PHD20-2192-01 | 200 | E-4203, E-4204 |
| Intermec | 1-040082-900 | 200 | PX4i |
| Intermec | 1-040084-900 | 200 | PX6i |
| Intermec | 1-040085-900 | 300 | PX6i |
| Datamax | PHD20-2240-01 | 200 | H-4212X, A-4212 MarkII |
| Datamax | PHD20-2245-01 | 200 | H-6210 |
| Datamax | PHD20-2234-01 | 300 | H-8308 |
| Datamax | DPO20-2262-01 | 200 | I-4208 |
| Datamax | PHD20-2278-01 | 200 | I-4212e MarkII |
| Datamax | PHD20-2182-01 | 300 | I-4308, A-4310 |
| Datamax | PHD20-2279-01 | 300 | I-4310 MARKII |
| Datamax | PHD20-2261-01 | 200 | M-4206 MARKII |
| Datamax | PHD20-2260-01 | 200 | M-4210+ MARKII |
| Datamax | PHD20-2270-01 | 200 | MP Compact4, Mobil Mark II |
| Intermec | 1-010044-910 | 300 | PF4i, PM4iA, PF4Ci, PM4 |
| IER | T104444 | 150 | IER 457 |
| IER | S46700A | 200 | IER 506B |
| IER | S31386A | 200 | IER 512B |
| IER | S30350A | 200 | IER 512C |
| IER | S35638A | 300 | IER 520/540, |
| IER | S56873B | 200 | IER-400 |
| Jaguar | IT000007 | 300 | Jaguar, 106i, 106c |
| Markem | PKM18/ 10018596 | 300 | 18 series 8018 |
| Markem | B04265AA | 300 | Cimjet 300, Cimjet 331, Cimjet 334 |
| Markem | ENM10104642 | 300 | SD5, X40 |
| Markem | PKSD107 | 300 | Smartdate 107mm, Cimjet 107mm |
| Markem | PKSD128 | 300 | Smartdate 128mm |
| Markem | PKSD2/3/5 | 300 | Smartdate 2, Smartdate 3, Smartdate 5 |
| Markem | ENM10104648 | 300 | X40, X60 |
| Markem | ENM10104650 | 300 | X60 |
| Markem | ENM10104685 | 300 | X60 |
| Markem | ENM10104651 | 300 | X60, X65 |
| Mectec | MT17067-10812 | | D30, T40, TT150, TWQ100 |
| Mectec | MT42500-M | | MT42500 |
| Mectec | MT42501 | | MT42501 |
| Mectec | MT14254-10812 | | T50, T50B, M200 |
| Mectec | MT17066 | | T50D |
| Mectec | M42500SP | 300 | T50i |
| Mectec | MT17066-10408 | 200 | T50T, 17066-10408 |
| Mectec | MT14252-16808 | 200 | T60 New |
| Mectec | MT14255-16212 | 300 | T60 New |
| Mectec | MT14779-21608 | | T70 |
| Mectec | MT13867-16008 | | TT150, M200, T60 Old |
| Mettler | MTKF3004 | | KF3004 GM50B - 1250 - 72300 - 20011 |
| Mettler | 31600094 | 200 | Mettler Toledo |
| Mettler | KD3004-ZSVLA | | Mettler Toledo |
| Monarch | 118387 | | 9403 |
| Monarch | 98-0260044-01 | 200 | 9416 TT / DT |
| Monarch | 98-0270033-00 | 300 | 9416 TT / DT |
| Monarch | PKM-9643 | | 9643 |
| Monarch | 12011101 | 200 | 9800 serie |
| Monarch | 126460 | 300 | 9800 serie |
| Monarch | 127032 | 200 | 9855, 9825, 9906 104mm |
| Monarch | 126458 | | Pathfinder 6032/6039 |
| Printronix | 251237-001 | 200 | SL5206R |
| Printronix | 251238-001 | 300 | SL5306R, 6 inch, RFID |
| Printronix | 257341-003 | 200 | T2N |
| Printronix | 257341-004 | 300 | T2N |
| Printronix | 252380-001 | 300 | T4M |
| Printronix | 251011-001 | 200 | T5204R |
| Printronix | 251235-001 | 200 | T5206E/T5206R |
| Printronix | 251239-001 | 200 | T5208E/T5208R |
| Printronix | 251244-001 | 300 | T5304E, |
| Printronix | 251240-001 | 300 | T5308E/T5308R |
| Printronix | P220063-901 | 200 | T6000 |
| Printronix | P220063-902 | 300 | T6000 |
| Printronix | P220064-901 | 200 | T6000 |
| Printronix | P220064-902 | 300 | T6000 |
| Printronix | P220065-901 | 200 | T6000 |
| Printronix | 258704-001 | | T8204 |
| Printronix | 258707-001 | | T8204 |
| Printronix | 258705-001 | | T8206 |
| Printronix | 258708-001 | | T8206 |
| Printronix | 258706-001 | | T8208 |
| Printronix | 258704-002 | | T8304 |
| Printronix | 258707-002 | | T8304 |
| Printronix | 258705-002 | | T8306 |
| Printronix | 258708-002 | | T8306 |
| Printronix | 258706-002 | | T8308 |
| Printronix | 258709-002 | | T8308 |
| Rohm | KA2002-CF12B | | |
| Rohm | KA2003-CF11 | | |
| Rohm | KD2002-CF10A | 200 | |
| Rohm | KD2002-DC72B | | |
| Rohm | KD2002-DF10Y | | |
| Rohm | KD2002-DF92A | | |
| Rohm | KD2002-DG10A | | |
| Rohm | KD2002-GC10A | | |
| Rohm | KD2003-CF41B | | |
| Rohm | KD2003-DC72 | | |
| Rohm | KD2003-DC91B | | |
| Rohm | KD2003-DF92A | | |
| Rohm | KD2004-DC72Y | | |
| Rohm | KD2004-DC73B | | |
| Rohm | KD2004-DC91C | | |
| Rohm | KD2004-DC94A | | |
| Rohm | KD2006-DC91B | | |
| Rohm | KD3002-DC72B | | |
| Rohm | KD3003-DC72B | | |
| Rohm | KD3004-DC10A | | |
| Rohm | KD3004-DC72 | | |
| Rohm | KD3004-DC73B | | |
| Rohm | KD3004-DC91B | | |
| Rohm | KD3004-DC92Y | | |
| Rohm | KD3006-DC10D | | |
| Rohm | KD3006-DC73B | | |
| Rohm | KD3006-DC92A | | |
| Rohm | KF1503-C1SXA | | |
| Rohm | KF1902-C1S | | |
| Rohm | KF1902-C1SXA | | |
| Rohm | KF2002-C1SXA | | |
| Rohm | KF2002-GC27B | | |
| Rohm | KF2002-GD10A | | |
| Rohm | KF2002-GH26B | | |
| Rohm | KF2002-GH50B | | |
| Rohm | KF2002-GK42 | | |
| Rohm | KF2002-GK42B | | |
| Rohm | KF2002-GL14B | | |
| Rohm | KF2002-GL41 | | |
| Rohm | KF2002-GL50A | | |
| Rohm | KF2002-GM11B | | |
| Rohm | KF2002-GM50 | | |
| Rohm | KF2002-GM50A | | |
| Rohm | KF2003-B1S | | |
| Rohm | KF2003-C1S | | |
| Rohm | KF2003-GC41B | | |
| Rohm | KF2003-GD10A | | |
| Rohm | KF2003-GD11B | | |
| Rohm | KF2003-GD41B | | |
| Rohm | KF2003-GK42 | | |
| Rohm | KF2003-GL14B | | |
| Rohm | KF2003-GL41 | | |
| Rohm | KF2003-GL50A | | |
| Rohm | KF2003-GM50 | | |
| Rohm | KF2003-GM50A | | |
| Rohm | KF2004-B1SXA | | |
| Rohm | KF2004-C1SXA | | |
| Rohm | KF2004-GC12F | | |
| Rohm | KF2004-GC17B | | |
| Rohm | KF2004-GD20 | | |
| Rohm | KF2004-GD40A | | |
| Rohm | KF2004-GH10H | | |
| Rohm | KF2004-GL14B | | |
| Rohm | KF2004-GL41A | | |
| Rohm | KF2004-GL50A | | |
| Rohm | KF2004-GM11B | | |
| Rohm | KF2004-GM41C | | |
| Rohm | KF2004-GM50D | | |
| Rohm | KF2006-GL14B | | |
| Rohm | KF2006-GL41C | | |
| Rohm | KF2006-GL50 | | |
| Rohm | KF2006-GL50A | | |
| Rohm | KF2006-GM11B | | |
| Rohm | KF2006-GM41B | | |
| Rohm | KF2006-GM41C | | |
| Rohm | KF3002-GL50A | | |
| Rohm | KF3002-GM50A | | |
| Rohm | KF3002-GM50D | | |
| Rohm | KF3003-GM11B | | |
| Rohm | KF3003-GM50 | | |
| Rohm | KF3004-GL41A | | |
| Rohm | KF3004-GL50C | | |
| Rohm | KF3004-GM11B | | |
| Rohm | KF3004-GM41E | | |
| Rohm | KF3004-GM50D | | |
| Rohm | KF3006-GL11B | | |
| Rohm | KF3006-GL50A | | |
| Rohm | KF3006-GM11B | | |
| Rohm | KF3006-GM41D | | |
| Rohm | KF3006-GM50A | | |
| Rohm | KL0702-A1SXA | | |
| Rohm | KM1903-A2 | | |
| Rohm | KM2002-A210B | | |
| Rohm | KM2003-2210A | | |
| Rohm | KM2003-22A | | |
| Rohm | KM2003-A210A | | |
| Rohm | KM2003-A210B | | |
| Rohm | KM2004-A3 | | |
| Rohm | KM2004-A310A | | |
| Rohm | KM2006-A310 | | |
| Rohm | KM2006-B310A | | |
| Rohm | KM2006-B410A | | |
| Rohm | NE3002-WA10B | | |
| Rohm | NE3004-WA10B | | |
| Rohm | NM2002-UA10A | | |
| Rohm | NM2003-A3 | | |
| Rohm | NM2003-UA10C | | |
| Rohm | NM3004-UA10A | | |
| Rohm | NM3004-UA21B | | |
| Sato | R13869000 | 200 | CG208 DT |
| Sato | R13864000 | 200 | CG208 TT |
| Sato | R13870000 | 300 | CG212 DT |
| Sato | R14481011 | 200 | CG408 DT |
| Sato | R14464020 | 200 | CG408 TT |
| Sato | R14482011 | 300 | CG412 DT |
| Sato | R14465020 | 300 | CG412 TT |
| Sato | R37901900 | 300 | CL4NX Plus |
| Sato | R37902000 | 600 | CL4NX Plus |
| Sato | RC0A20302 | 200 | CT400, CT400-2, 8 DPMM |
| Sato | R04733001 | 200 | CT408iDT, D508, 8 DPMM |
| Sato | R10168000 | 200 | CT408iTT |
| Sato | RC0A20402 | 300 | CT410, CT410-2, 12 DPMM |
| Sato | R08329100 | 300 | CT412iDT |
| Sato | R10169000 | 200 | CT412iTT |
| Sato | R12108000 | 600 | CT424iDT |
| Sato | R10170000 | 600 | CT424iTT |
| Sato | YVCX20052 | | CX208 |
| Sato | WCX405701 | | CX400 |
| Sato | WWCX45801 | | CX410 |
| Sato | G00263000 | 200 | DR308e |
| Sato | WWGT05810 | 200 | GT408e |
| Sato | WWGT05820 | 300 | GT412e |
| Sato | WWGT05830 | 600 | GT424e |
| Sato | R11375100 | 200 | LM408e-2 |
| Sato | R11375000 | 300 | LM412e, LM412e-2, 12 DPMM |
| Sato | R07333000 | | Lt408 |
| Sato | PR7A60101 | 300 | M10e-XX |
| Sato | GH000801A | 200 | M8459Se |
| Sato | GH000831A | 300 | M8490Se |
| Sato | WWM845800 | 200 | M84Pro-2 |
| Sato | WWM845810 | 300 | M84Pro-3 |
| Sato | WWM845820 | 600 | M84Pro-6 |
| Sato | R09304000 | 200 | MB400i |
| Sato | R09305000 | 300 | MB410i |
| Sato | R08081010 | 200 | S8408 |
| Sato | R08083020 | 600 | S8424 |
| Sato | R29219000 | 200 | S84-ex |
| Sato | R29225000 | 300 | S84-ex |
| Sato | R14222000 | 200 | TG308 (8DPMM) |
| Sato | R14223000 | 300 | TG312 |
| Sato | WT205-001 | 200 | WS408TT |
| Sato | WT301-001 | 300 | WS412TT |
| Savema | PKSV107 | | Savema 107mm |
| Savema | PKSV32 | | 32mm |
| Savema | PKSV53 | | 53mm |
| Toshiba | FMBC0073203 | 300 | B-452 |
| Toshiba | FMBC0089706 | | B-852 |
| Toshiba | 7FM07253000 | 200 | BA410T, BA420T |
| Toshiba | 7FM07254000 | 300 | BA410T, BA420T |
| Toshiba | 7FM03642000 | 200 | BEP2 |
| Toshiba | 7FM03647000 | 200 | BEP4 |
| Toshiba | 7FM03639000 | 200 | B-EP4D |
| Toshiba | 7FM03784000 | 200 | BEV4 |
| Toshiba | 7FM03785000 | 300 | BEV4 |
| Toshiba | 0TSBC0117201F | 300 | B-EX4T1 |
| Toshiba | 0TSBC0145101F | 300 | B-EX4T2 |
| Toshiba | 7FM05244000 | 600 | B-EX4T3 |
| Toshiba | 7FM06977100 | 300 | B-EX6T1 |
| Toshiba | 7FM07063100 | 200 | B-EX6T1 |
| Toshiba | 7FM07075100 | 300 | B-EX6T3 |
| Toshiba | 7FM07076100 | 200 | B-EX6T3 |
| Toshiba | 7FM06507000 | 200 | B-FV4T |
| Toshiba | 7FM00973000 | 200 | B-SA4TM, B-SA4TP |
| Toshiba | 7FM00973100 | 300 | B-SA4TM, B-SA4TP |
| Toshiba | GO-00284000 | 200 | B-SP2D |
| Toshiba | 7FM01641100 | 300 | B-SX5T |
| Toshiba | 7D110530 | 600 | BSX600 |
| Toshiba | 0TSBC0138201F | 200 | DB-EA4D |
| Toshiba | 7FM06508000 | 300 | FV4T |
| Toshiba | 7LD0220500 | | TRST-A10 |
| TSC | 98-0620005-00LF | 200 | Alpha 2R |
| TSC | 98-0480007-00LF | 200 | Alpha-3R |
| TSC | 98-0480007-10LF | | Alpha-3R Assemby |
| TSC | 98-0520004-00LF | 200 | Alpha-4L |
| TSC | 98-0580095-00LF | 200 | DA200 |
| TSC | 98-0680031-01LF | 300 | MB340(T) |
| TSC | 98-0420005-00LF | 200 | ME240 |
| TSC | 98-0420005-01LF | 300 | ME340 |
| TSC | 98-0600022-00LF | 200 | MH240 |
| TSC | 98-0600022-01LF | 300 | MH340 |
| TSC | 98-0600022-02LF | 600 | MH640 |
| TSC | 98-0510090-00LF | 200 | MX240 |
| TSC | 98-0510090-01LF | 300 | MX240/340 |
| TSC | 98-0510090-02LF | 600 | MX640 |
| TSC | 98-0450081-00LF | 200 | TA200 |
| TSC | 98-0450015-13LF | 200 | TA200/TA210 |
| TSC | 98-0450015-01LF | 300 | TA300 |
| TSC | 98-0260044-00LF | | TDP -245 |
| TSC | 98-0390005-00LF | 200 | TDP-225 / TDP-324W |
| TSC | 98-0390005-02LF | 300 | TDP-225 / TDP-324W |
| TSC | 98-0430006-10LF | 200 | TDP-244 |
| TSC | 98-0260044-10LF | 200 | TDP-245 |
| TSC | 98-0650067-00LF | | TE200 |
| TSC | 98-0650067-01LF | | TE300 |
| TSC | 98-0400009-00LF | 200 | TTP-225 |
| TSC | 98-0400009-01LF | 300 | TTP-225 |
| TSC | 98-0240067-00LF | 200 | TTP-2410M |
| TSC | 98-0470020-00LF | 200 | TTP-2410M Pro |
| TSC | 98-0470024-00LF | 600 | TTP-2410M, TTP-644M PRO |
| TSC | 98-0470074-00LF | 200 | TTP-2410MT |
| TSC | 98-0470074-01LF | 300 | TTP-2410MT |
| TSC | 98-0470074-02LF | 600 | TTP-2410MT/ 644M |
| TSC | 64-0010011-00LF | 200 | TTP-243 |
| TSC | 64-0180002-00LF | | TTP-244 |
| TSC | 98-0330019-00LF | 200 | TTP-244 Plus, 245C |
| TSC | 64-0570001-00LF | 200 | TTP-244 PRO |
| TSC | 98-0570022-21LF | 200 | TTP-244 PRO |
| TSC | 98-0330019-01LF | 300 | TTP-245C |
| TSC | 98-0330019-04LF | | TTP-245C Assembly |
| TSC | 98-0220043-00LF | 200 | TTP-246M |
| TSC | 98-0240069-00LF | | TTP-246M |
| TSC | 98-0470022-00LF | | TTP-246M PRO |
| TSC | 98-0250128-40LF | | TTP-247 |
| TSC | 64-0010016-00LF | 200 | TTP-248M |
| TSC | 98-0410061-00LF | 200 | TTP-2610MT |
| TSC | 98-0410008-00LF | 200 | TTP-268M |
| TSC | 98-0350060-01LF | | TTP-286MT |
| TSC | 98-0330043-02LF | | TTP-343C / TC-310 |
| TSC | 98-0220044-00LF | 300 | TTP-344M |
| TSC | 98-0240070-00LF | | TTP-344M PLUS |
| TSC | 98-0470023-00LF | | TTP-344M Pro |
| TSC | 98-0280007-20LF | 300 | TTP-345 |
| TSC | 98-0240068-10LF | 300 | TTP-346M |
| TSC | 98-0470021-00LF | 300 | TTP-346M Pro |
| TSC | 98-0240047-03LF | | TTP-346MT |
| TSC | 98-0410008-01LF | 300 | TTP-366 |
| TSC | 98-0410061-01LF | | TTP-368MT |
| TSC | 98-0350032-00LF | 300 | TTP-384M |
| TSC | 98-0350060-00LF | | TTP-384MT |
| TSC | 98-0240071-00LF | 600 | TTP-644M |
| TSC | 98-0530014-10LF | 200 | TX200 |
| TSC | 98-0530014-11LF | 600 | TX200 |
| TSC | 98-0530014-12LF | 300 | TX200 |
| Valentin | 37.04.1283 | | DPMIII Xi 128mm |
| Valentin | 37.04.1288 | | M7 + SH 128mm |
| Valentin | 37.04.0861 | | 81/12 |
| Valentin | 37.04.1025 | 200 | Compa 104 |
| Valentin | 37.04.1026 | 200 | Compa 104/8 |
| Valentin | 37.04.1026A | | Compa 104/8€ |
| Valentin | 37.04.2347 | 600 | Compa 106 |
| Valentin | 37.04.2315 | 300 | Compa 106 |
| Valentin | 37.04.2315A | 300 | Compa 106A |
| Valentin | 37.04.1625 | 300 | Compa 162 |
| Valentin | 37.04.1625A | 300 | Compa 162A |
| Valentin | 37.04.1025B | | Compa II 103/8 |
| Valentin | 37.04.1158 | 200 | Compa II 104/8 |
| Valentin | 37.04.1625B | 300 | Compa II 162A |
| Valentin | 37.04.110 | | Desco II, Desco 106 |
| Valentin | 37.04.102 | 200 | Desco II, SPE104/106, Vario(104), Vario II |
| Valentin | 37.04.107 | 300 | Desco II, SPE106,Vario 107, Vario II |
| Valentin | 37.04.1021 | 200 | Desco II, Vario104, Vario II |
| Valentin | 37.04.108 | | DPM I |
| Valentin | 37.04.1010 | | Duoprint 107/12 |
| Valentin | 37.04.1600 | | DuoPrint 160/12 |
| Valentin | 37.04.1013 | 300 | Dynacode 107, DPM IIIc |
| Valentin | 37.04.1280 | | Dynacode II/IV 128/12 |
| Valentin | 37.04.0541 | | ECO print 54-12 |
| Valentin | 37.04.0535 | | Flexicode 53/12 |
| Valentin | 37.04.0561 | 200 | ILS |
| Valentin | 37.04.0851 | | ILS 80/8 |
| Valentin | 37.04.0546 | | ILS II 54-12 |
| Valentin | 37.04.0566 | | ILX |
| Valentin | 37.04.0866 | | ILX 81-12 |
| Valentin | 37.04.1015 | | KCE-107 M7 / SH |
| Valentin | 37.04.2321 | | KPW-106/12 Long Life |
| Valentin | 37.04.114 | 200 | Micra 104/8 |
| Valentin | 37.04.113 | 300 | Micra 106/12, |
| Valentin | 37.04.128 | 300 | Optimo 128, |
| Valentin | 37.04.1601 | 300 | Optimo 160, SPE 160 |
| Valentin | 37.04.220 | 300 | Optimo 213, |
| Valentin | 37.04.1022 | 200 | Pica 104 |
| Valentin | 37.04.1081 | | Pica 108 |
| Valentin | 37.04.230 | | PM-Pica 56-8 |
| Valentin | 37.04.081 | 200 | Solo 80 |
| Valentin | 37.04.1011 | 300 | Spectra 107, DPM III i, SPE 107 |
| Valentin | 37.04.162 | 300 | Spectra 162, |
| Valentin | 37.04.218A | 300 | Spectra 216 Encoded |
| Valentin | 37.04.218 | 300 | Spectra 216, |
| Valentin | 37.04.2351 | | Spectra II 103/8 |
| Valentin | 37.04.1001 | 300 | Spectra II 108 |
| Valentin | 37.04.2318 | 300 | Spectra II SPX 106/12 |
| Valentin | 37.04.1627 | 300 | SPX 162/12, |
| Valentin | 37.04.1157 | 200 | SPX I & II 104/8 |
| Valentin | 37.04.2338 | | SPX I + II 108/12 VA |
| Valentin | 37.04.1029 | | SPX II 103/8 |
| Valentin | 37.04.1626 | | Universal 162mm |
| Valentin | 37.04.032 | 300 | Valentin |
| Valentin | 37.04.1020 | | Vario III 103/8 |
| Valentin | 37.04.1150 | | Vario III 104/8 |
| Valentin | 37.04.2320 | | Vario III 107/12 |
| Valentin | 37.04.2340 | | Vario III 107/24 |
| Valentin | 37.04.2330 | | Vario III 108/12 |
| Valentin | 37.04.1027 | | Vita 103/8 |
| Valentin | 37.04.1155 | 200 | Vita 104/8 |
| Valentin | 37.04.232 | 300 | Vita 106/ Compa II 106 |
| Valentin | 37.04.2316A | 300 | Vita 106/12, |
| Valentin | 37.04.1156 | 200 | Vita II - Pica II 104/8 |
| Valentin | 37.04.1028 | 200 | Vita II 103/8T |
| Valentin | 37.04.2345 | 600 | Vita II 106/24 |
| Valentin | 37.04.2335 | 300 | Vita II 108/12T |
| Videojet | 500018 | 300 | Dataflex 107mm |
| Videojet | PKVJ6210 | 300 | Dataflex 6210 |
| Videojet | 408300 | 300 | Dataflex 6230 32mm |
| Videojet | 408657 | 300 | Dataflex 6330 32mm |
| Videojet | 408554 | 300 | Dataflex 6530 107mm |
| Videojet | 407064 | 300 | Dataflex 9530 53mm |
| Zebra | 44000M | 200 | 105S, 105Se, S300, S500 |
| Zebra | G32432-1M | 200 | 105SL |
| Zebra | G32433M | 300 | 105SL |
| Zebra | P1053360-018 | 200 | 105SL Plus |
| Zebra | P1053360-019 | 300 | 105SL Plus |
| Zebra | P1004230 | 200 | 110XI4 |
| Zebra | G41000-1M | 200 | 110XiIII Plus |
| Zebra | G41001M | 300 | 110XiIII Plus |
| Zebra | P1004234 | 200 | 140Xi4 |
| Zebra | G48000M | 200 | 140XI3, 140XiII, 140XiIII (Plus) |
| Zebra | G38000M | 200 | 170PAX, 170XiIII Plus, 172PAX |
| Zebra | P1004236 | 200 | 170XI4, ZE500 |
| Zebra | P1025950-019 | 200 | GT800 |
| Zebra | 61330m | 300 | HC100 |
| Zebra | P1037974-011 | 300 | ZT200, ZT220, ZT230 |
| Zebra | 105936G-003 | | Kit ZXP8 |
| Zebra | AT15351-1 | | QL320 |
| Zebra | G41400M | 200 | S4M |
| Zebra | G41401M | 300 | S4M |
| Zebra | 105934-039 | 300 | GX430T |
| Zebra | P1046838-001 | | TTP 7030 |
| Zebra | P1029257-001 | | TTP2100 |
| Zebra | P1079903-010 | 200 | ZD410 |
| Zebra | P1079903-011 | 300 | ZD410 |
| Zebra | P1080383-227 | 300 | ZD420T, ZD620T |
| Zebra | P1112640-026 | 200 | ZD421-hc |
| Zebra | P1112640-027 | 300 | ZD421-hc |
| Zebra | P1112640-218 | 200 | ZD421 |
| Zebra | P1112640-050 | 200 | ZD621 |
| Zebra | P1112640-051 | 300 | ZD621 |
| Zebra | P1112640-240 | 200 | ZD621 |
| Zebra | P1112640-241 | 300 | ZD621 |
| Zebra | P1046696-099 | 200 | ZE500-4 |
| Zebra | P1073117-007 | 300 | GT800 |
| Zebra | 79801M | 300 | ZM400 |
| Zebra | 79803M | 200 | ZM600 |
| Zebra | P1037974-010 | 200 | ZT200, ZT220, ZT230 |
| Zebra | P1058930-009 | 200 | ZT410, ZT411 |
| Zebra | P1058930-010 | 300 | ZT410, ZT411 |
| Zebra | P1083347-006 | 300 | ZT510 |
| Zebra | P1083320-010 | 200 | ZT610 |
| Zebra | P1083320-015 | 200 | ZT620, ZT620R |
| Zebra | P1083320-016 | 300 | ZT620, ZT620R |
| Zodiac | VJDF107 | 300 | Dataflex 107mm |
| Zodiac | PKZI_53 | 300 | PKZI_53 |
| Zodiac | PKSOLST53 | 300 | SSC 53I 53mm |
| If an item is not listed here, drop us a note in the contact form | | | |