Wax resin ribbons produce high quality prints
4U wax-resin thermal transfer ribbons produce durable prints that can last for years, enduring more harsh conditions. They are also a great fit for high-volume printing processes at high speeds. They perform well on substrates like paper, plastics and flexible packaging foils.
Receive a free sample box
Download stock list
Our 4U Wax resin ribbon options
Browse the ribbon qualities by flathead or near-edge printer, make your selection here.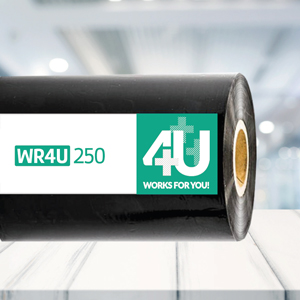 Economical wax resin 4U 250 
General purpose wax-resin for use on paper, coated or glossy paper and matte synthetics. Prints last longer than the pure wax alternatives and they withstand more demanding environmental conditions.
– Printhead protection with low print energy and anti-static formulation
– Barcoding, shipping & freceiving, inventory, shelf labeling, horticulture, and more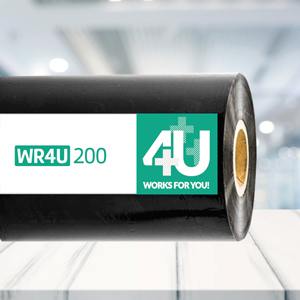 Premium wax resin 4U 200
High quality wax-resin for flathead thermal transfer printers. It prints great definition black images on a wide variety of substrates, like tags, synthetics, polyethylene, polypropylene, etc. It provides the best scratch resistance for more durable prints.
– Best quality scratch resistance, withstands heat up to 100 ºC
– Superior back coating extends printhead life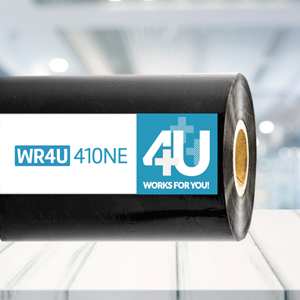 Economical wax resin 4U 410 Near Edge
General Purpose wax-resin for in-line or near-edge printers. High durability of prints and ability to print at high speed. It has the thinnest PET film in the range which allows more meters per roll.
– Great overall cost savings for inline and packaging printing
– Anti-static back coating and low energy requirements prolong the life of the printhead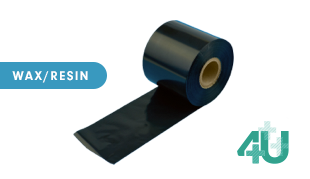 Premium wax resin 4U 411 Near Edge
Wax resin ribbon designed for industrial near-edge printers in high-volume labelling applications like flexible film and print and apply applications. It produces consistent print quality and clean dot edges for dense barcodes.
– High smudge resistance
– High scratch resistance
– High UV resistance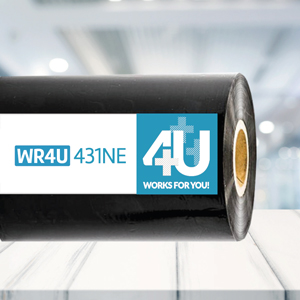 Special wax resin 4U 431 Near edge
Designed for in-line packaging printing, high speed print-and-apply. It produces excellent print density and definition on a wide range of substrates.
– Good resistance to high temperature
– Compatible with flexible packaging films